Meet our Elders
Reverend Cody Almanzar
Pastor Cody accepted a call as Senior Minister of South Baptist Church in October of 2020, after ministering bi-vocationally for 9 years in his home state of Colorado. Cody and his wife Amber have eight children, and the entire family is excited to see what God has in store for them and for the congregation at SBC.
Pastor Cody earned a M.Div. degree from Sangre de Cristo Seminary in Westcliffe, CO, in 2013. While completing his seminary studies, he began ministering to a small group of believers in Canon City, CO. This turned into a 9-year period of ministry and service as an Elder and Senior Minister. Cody served in his Canon City church in a bi-vocational role, where God richly blessed him with the opportunity to also serve at the local post office. Cody has had a desire to preach and teach God's Word since the time he was saved. Through the Lord's gracious leading and guiding, Cody came to know and love the doctrines of grace and reformed theology, which now inform and ground him in a biblical understanding of all of God's dealings with mankind.
Elder Anthony Scalfani, Senior Pastor Emeritus
Anthony began his ministry with South Baptist Church in August of 2008 after relocating from Washington with his family. He earned his M.A. in Biblical and Theological Studies from Wheaton College, Graduate School of Theology, accompanied by Holy Land Studies with the Jerusalem University College. His thesis was The Theology of Genesis: God the Redeemer. Anthony retired from his position as Senior Pastor at SBC in August 2020.
Anthony and his wife Dolores have five adult children and five grandchildren. He was not raised in a family of believers, but by the work of the Lord's sovereign hand he was converted at age 31. He was employed in the micro-electronic/semiconductor industry for 26 years before being called by God into full-time vocational ministry. At that time he began his theological studies. Anthony served in full-time ministry for almost 20 years, and brings to the body of Christ his giftings of discipleship, teaching, and training.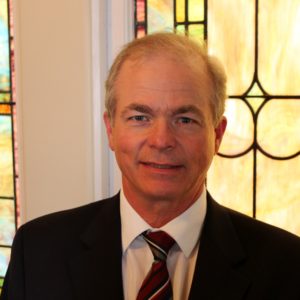 Steve Folsom, Elder
Steve and his wife Terry began attending South Baptist Church in 1998. They left in 2003 in search of Reformed doctrine and returned to SBC in 2011. Steve joined the board of elders at SBC in October of 2016.
Steve ministers within the body of Christ at SBC and in our community with his gifts of mercy and evangelism. Through his employment as a nurse and phlebotomist at Lakes Region General Hospital for the past 20 years, God has given him a heart for the elderly who live in area nursing homes. He has also served and is active in local and foreign missions works. He has visited Costa Rica to work personally with pastors serving local churches there.