Welcome!
South Baptist Church is located in Laconia, New Hampshire, in the heart of the Lakes Region. We joyfully embrace the theology of the Reformed tradition, and invite you to come worship with us. We gather for corporate worship every Sunday morning at 10:30 a.m. Through our worship we offer praise to the great triune God, Author and Creator of all, believing that He is pleased with the worship we bring before Him.
As a Reformed church, our beliefs encompass Calvinism and covenant theology. You can read more about what we believe here on our website. We also offer suggestions of many
online biblical resources
that we hope will be a help to you. We welcome you to get in touch with us if you have any questions.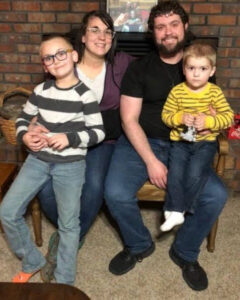 We are pleased to announce that Pastor Johnathan Brown, formerly of Georgia, is relocating to New Hampshire to take on the role of pastor at South Baptist Church in Laconia. With years of experience and a passion for spreading the word of God, Pastor Johnathan is excited to bring his message of hope and inspiration to the community.
Johnathan is arriving with his wife and two young sons. "We're excited to come to New Hampshire and to serve the community," said Pastor Johnathan. "I'm very much looking forward to the work in the ministry that God has for us in Laconia."
Pastor Johnathan has been preaching since 2016 and was ordained to pastoral ministry in February 2021. He brings a wealth of experience to his new role, having previously served as a pastor and spiritual leader in Georgia. He's looking forward to bringing these skills to his new congregation. "I am honored to have the opportunity to lead this church and to be a part of such a wonderful and diverse community," said Pastor Johnathan. "There are so many people from so many different backgrounds bringing this church together. I'm looking forward to getting up there, getting settled in, and getting started."
The church looks forward to being inspired and uplifted by Johnathan's message. Worship services are held every Sunday morning at 10:30, with an adult Sunday School class at 9:15. All are welcome to attend.